Norton Village Hall is closed until further notice, due to a suspected structural problem. Our meeting on 30 July will take place at Nature in Art, Wallsworth Hall,Twigworth, Gloucester, GL2 9PA, starting at the usual time.
Now that the pandemic restrictions have been lifted, we still wish to ensure the safety of our members so various precautions and changes will continue. Click here to see updated precautions from 25th June 2022.
Who We Are
The Hardy Plant Society Western Counties Group is one of the many county groups of the national Hardy Plant Society (HPS). Our group consists of HPS members who live in the counties of Gloucestershire, Herefordshire, and Worcestershire, but HPS members from other counties also belong to the group. (Note that Worcestershire, in addition, also has its own county group).
Why not come along to a meeting as a visitor to try us out!
To become a member of the Western Counties Group of the HPS, it is necessary to be a paid-up member of the national HPS. You can join the national HPS through the Hardy Plant Society website or by contacting :-
HPS Administrator
Hardy Plant Society
3 Basepoint Business Centre
Crab Apple Way
Evesham, WR11 1GP
telephone 01386 710317
email admin@hardy-plant.org.uk
To join the Western Counties Group, please contact our Secretary, Catherine Part, by email to enquiries@HPS-WesternCounties.org.uk.
What We Do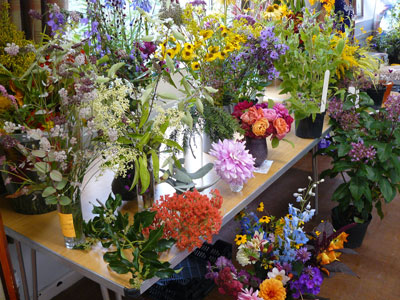 All meetings are held at Norton Village Hall, Old Tewkesbury Road, Norton, Gloucestershire, GL2 9LJ. Group members pay an annual subscription, due on January 1st each year (single membership £4 and two members at the same address £6), and the cost for each meeting is £3, and £5 for visitors - or free entrance if you provide a cake!! Our members frequently comment on what excellent value they get for their money.
Our group members range in experience from beginners to 'old hands', and many of our members have a wealth of knowledge and experience to share.
We meet on the last Saturday in every month of the year except December and the meetings are an 'all day' affair. We generally manage to welcome about 65 members to each meeting.
In the mornings, from 10:00am, we provide coffee/tea and biscuits on arrival, and we have various plant sales tables, a charity table, and a raffle, all followed at 11.00am by an introduction by the Chairman and a discussion session, using material from our Display Table, furnished by plants brought in by members.
This is followed by a short discussion to help identify "mystery plants" from members who are seeking help to identify a plant that they are unsure of, another really useful and appreciated aspect of our meetings. This morning session has proved immensely popular and the Display Table is a joy to behold at every meeting.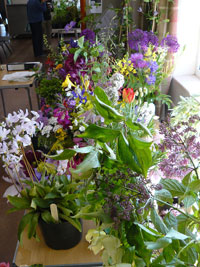 We also have a very well stocked library where books are available to be borrowed for free, and each year we add further books to our shelves. At present we have well over 200 titles in stock covering a wide range of garden subjects.
The monthly charity table is run by individual members who volunteer to run a stall on behalf of a charity of their choice and, with the help of donations from members, raised a total well in excess of £2,000 during 2019, our last fully active year.
In the afternoon, commencing at 1:45pm, we have the pleasure of listening to an invited speaker until 3:00pm when we serve free tea/coffee, with cakes donated by members. The afternoon session usually finishes by 3:45pm. Click here for the programme.
During the summer months we arrange group visits to interesting gardens, near and far.
In addition to the National HPS Seed Exchange, we hold our own annual Seed Exchange scheme giving everyone the opportunity to grow plants from seed donated by our members – the 2019 list included 231 varieties.
We issue a Newsletter three times a year which not only gives updated group information but also includes articles written by our members. Click here for articles from our newsletters.
Our members invariably comment upon the relaxed and friendly atmosphere of our meetings, so whether you are a new member, an existing member, or a visitor you can be assured of a warm and welcoming reception.